Call us for Information and Reservations: 707-966-4204
4420 Knoxville Road, Napa, CA 94558
Come out to Lake Berryessa and water ski on our competition ski boat rentals at Lake Berryessa. Our ski boat rentals are the best for you, your family, and your friends. We are proud to always have the newest, cleanest, and smoothest running motor boat rentals in Northern California.
Hands down our ski boats on Lake Berryessa are the best combination for your day out on the lake. All of our Ski Boats rentals have ProFlight towers that put the tow rope ten feet above the water. If you're a beginner water skier, wakeboarder, or knee boarder, this makes it a lot easier to get up out of water, and keep you going for a ride as long as you can hold on. These competition tow boats also make it easier for the driver to provide the best tow for the water skier. 300+ horsepower engines allow the driver to hit the throttle and go. Thanks to all that power, when you take off the boat will level out quickly so the driver can see, and let the fun begin!
All of our V Drives are deluxe boats with luxurious wrap around seating.
*Now renting to customers 18 years of age and older.*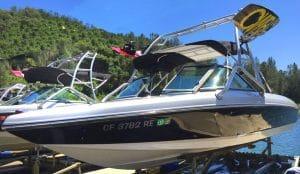 The V215 is a little bigger and has a little bit more space than the V210. It makes a bigger wave so experienced wake boarders can catch big air. Also, great for water skiing and tubing. The Sanger V215 ski boat is the boat that the pros use. With its 340 horse power Black Scorpion motor, you will have plenty of power to pull up any beginner or advanced wakeboarder or water skier. Experienced wakeboarders can get big air jumping off its huge wake. It's a real thrill for tubing, yet the wakes are soft enough to be worthy of beginners to the most advanced water skiers. It has incredible style and comfort with spacious wrap around lounge seating and plenty of room to walk around. There is large pad in the back for lying out in the sun and getting that perfect tan. The rear facing observer's seat provides comfort and abundant storage.
For the group with more experienced wakeboarders, this boat can create a massive wake. Fill the 3 ballast tanks with the flip of a switch and the result is a much larger wake to jump from. Models with triple ballast are also great for wake surfing.
Features: 7 – 8 passengers, depending on weight (8 adults or 10 people with 3 children under 80 lbs) – Bimini top for shade – Stereo with an iPod auxiliary input – ProFlight Tower for wakeboarding – 340 horsepower Black Scorpion motor – 21 feet long
2 Options Available: Black Flame – NEW for 2016!! / Silver Flame V215 with Triple Ballast
Information on what to bring/requirements for making a reservation