Call us for Information and Reservations: 707-966-4205
Come out to Lake Berryessa and water ski on our competition ski boat rentals at Lake Berryessa. Our ski boat rentals are the best for you, your family, and your friends. We are proud to always have the newest, cleanest, and smoothest running motor boat rentals in Northern California.
Hands down our ski boats on Lake Berryessa are the best combination for your day out on the lake. All of our Ski Boats rentals have ProFlight towers that put the tow rope ten feet above the water. If you're a beginner water skier, wakeboarder, or knee boarder, this makes it a lot easier to get up out of water, and keep you going for a ride as long as you can hold on. These competition tow boats also make it easier for the driver to provide the best tow for the water skier. 300+ horsepower engines allow the driver to hit the throttle and go. Thanks to all that power, when you take off the boat will level out quickly so the driver can see, and let the fun begin!
All of our V Drives are deluxe boats with luxurious wrap around seating.
*Now renting to customers 18 years of age and older.*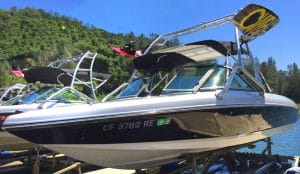 The V215 is a little bigger and has a little bit more space than the V210. It makes a bigger wave so experienced wake boarders can catch big air. Also, great for water skiing and tubing.

Capacity: Up to 10 passengers - 10 Passenger - 8 adults or 10 people with 3 children under 80 lbs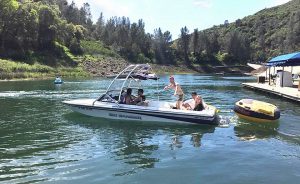 The DXII is a perfect direct drive boat for smaller groups. Beginners to intermediate, great for water skiing, wake boarding and tubing. It puts out a smaller wake than the other boats.

Capacity: Up to 7 passengers
7 Passenger - 6 adults or 7 people with 3 children under 80 lbs