Call us for Information and Reservations: 707-966-4204
In the jet ski world, jet skis are also known as WaveRunners or Sea-Doos - depending on the manufacturer. But they're all jet skis raring to go!
Lake Berryessa Boat & Jet ski Rentals
offers the best rentals both in quality and price. Our jet ski rentals and waverunner rentals are well-maintained and we have lots of them for your awesome weekend at the Lake. All of our WaveRunner and
jet ski rentals
hold up to three people. We allow up to two adults at a time, or two adults and one small child. We have no rev-limiters on our jet ski rentals like some other rental companies. Ours all go from 55 MPH to 65 MPH. You can go as fast as you squeeze the throttle. If you have never tried jet skiing before, anyone can do it! They are very stable and lots of fun!!
*Now renting waverunners and jet skis to customers 18 years of age and older.*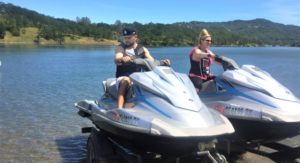 The VX110 is the most comfortable, best selling PWC of all time. Powerful enough for the expert, yet stable enought for the beginner.
Capacity: Up to 3 riders
1 adult/2 small kids under 80 lbs - **Weight limit 450 lbs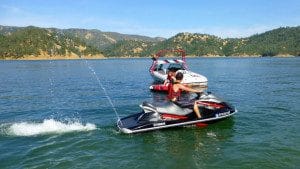 The VX110 Cruise is nearly identical to the VX110 Deluxe. It has upgraded seating for a more comfortable ride and support.
Capacity: Up to 3 riders
1 adult/2 small kids under 80 lbs - **Weight limit 450 lbs